Noorvik
---
Noorvik Gravel Map

Noorvik Materials Investigation – Existing Alignment, Proposed Alignment, and Material Sites, ADOTPF, July 1973

Geotechnical Investigation – Airport Material Sites, Noorvik, Alaska, HDR, July 14, 1997

DOT Geotechnical Investigation Report: Noorvik Airport Rehabilitation Project, March 2020
Gravel Pit Location and Accessibility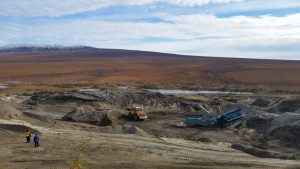 Location: Approximately 6.5 mi E of Noorvik.
Access: By dirt road.
GPS Coordinates: N66°48.546, W160°49.296
Material: Material consists of alluvial gravel, sand and silt that is part of an alluvial terrace that was segmented by erosion. Site stratigraphy consists of interbedded sand, gravel, sand with silt, gravel with silt, silty sand and silty gravel, overlain with up to 8-feet of silt.
Hotham Peak Pit is managed locally by the Native Village of Nuurvik (IRA). The IRA transports materially locally, for a fee. Contact the IRA directly for all gravel requests at (907) 636-2144 or email transportation@nuurvik.org.